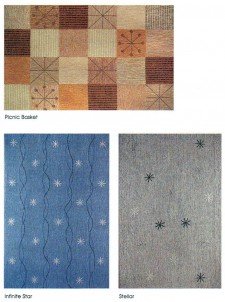 In the early 1950's, industrial designer Raymond Loewy created area rugs in defiance of the fashion in America for wall-to-wall carpeting. As his client, elite carpet manufacturer Edward Fields, recognized, small rooms were giving way to the open floor plans of postwar architecture and floor coverings were useful in breaking up spaces.
Such rugs were "a big deal at that time," said Yasmina Benazzou, director of design and creative development for Tai Ping/Edward Fields, with is reintroducing Mr. Loewy's original collection.
The five rugs are hand-tufted wool with overstitched patterns of asterisks, scribbles and abstract ribbons and bows. The palettes follow the originals, or as closely as the company could match them to the documents. No examples survive from the '50s. Each rug is 8 feet by 10 feet; prices range from $6,400 to $7,800. (212) 310-400 or edwardfields.com.